Take a shot of this!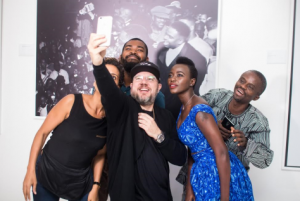 Hennessy Artistry dedicated a week to the Hip Hop culture in Lagos as it welcomed legendary Hip Hop photographer; Jonathan Mannion to Nigeria.
The one of a kind project kicked off on the 25th of October and ended on 31st, October 2016. This had Jonathan Mannion touring symbolic places and meeting influential people in the Visual and Hip Hop industries in Lagos.
The week kicked off with Mannion shooting the Hennessy VS Class Alumni at Studio 24, The Hennessy VS Class Alumni are the winners of a yearly Hip Hop initiative created by Hennessy.
The next day, Jonathan had a private 'meet and greet' with some key representatives of the media. During the meeting, he conveyed the aim of his tour to Lagos which was to authenticate and celebrate the Nigerian Hip hop culture; he also shared his works, experiences and ideas with them.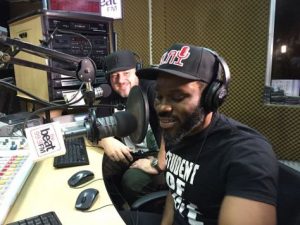 Up next was the official opening ceremony at Red Door Art Gallery where the energetic Jonathan walked a selected guests of 100 through a collection of his most iconic works which were curated in collaboration with Lagos Photo Festival's Azu Nwagbogu and Wunika Mukan. The exhibition was shortly opened to the public and featured musical performances and cocktails by Hennessy.
On Friday, 28th October, Mannion had a private lunch with four top Photographers in Nigeria to including Lemi Gahriokwu; the album cover artiste for Lt. Fela Anikulapo Kuti, Yetunde Babaeko; an established photographer in Nigeria, Jenevieve Akeni; popularly known for her thought provoking photography exhibition in various photo festivals, and Nigeria's leading album cover photographer; August Udoh.
A selected work of Jonathan Mannion was also auctioned at Lagos Photo Festival to raise funds to encourage the Photography industry in Nigeria. These activities were followed by Jonathan Mannion and Nigeria's hip hop star Olamide, kicking off Hennessy Artistry Club Tour at Club 57 to celebrate Jonathan's 20th anniversary in the business.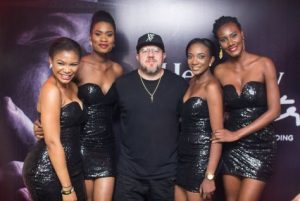 On Saturday, 29th October, at Red Door Art Gallery, Jonathan had a Talk Presentation with a cross section of Nigeria's Hip Hop/music and photography influencers. Issues such as the history of Nigerian Hip hop, the quality of the musical content produced, as well as the way forward in the Nigerian music industry were some of the things that were discussed during the presentation.
On the panel of discussion were, Obi Asika, Show Dem Camp, Azu Nwagbogu with Classic FM's Buki Izeogu moderating. Other guests in attendance were Naeto C, Rugged Man, Osagie Alonge,  Sasha P, Ill Bliss, Jesse Jagz, Leriq, Moti Cakes and Ajebutter22.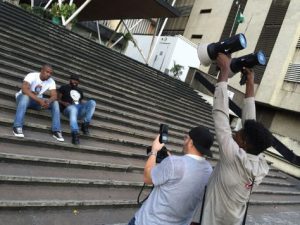 The next day, Sunday, 30th October, in conjunction with Lagos Photo Festival, he held a photography workshop for young and upcoming Professional Photographers at the Red Door Art Gallery where he shared his works, knowledge and upcoming projects with the enthusiastic minds. The same day, Jonathan Mannion shot Nigerian leading Rap Duo Show Dem Camp.
Pre his departure, which was Monday, 31st, October, Jonathan shot top A-list Artiste Olamide A.K.A King of the street for his upcoming album cover at Studio 24, Allen Avenue Ikeja. Styled by Zed Eye, the Artiste witnessed hundreds of fans show up to support him. It was the most breathtaking experience for all who witnessed Jonathan Mannion bring his immense depth of experience and professionalism into play as he manipulated the scene to create the most unexpected results.