Take notes people, model Halima Aden is proof that you don't always have to conform to succeed!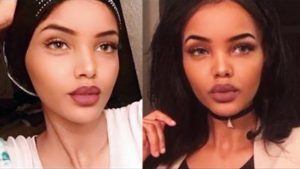 Sometimes the biggest runway impacts come from simply being yourself. When Somalian American model Halima Aden stepped out on Kanye West's Yeezy Season 5 fashion runway wearing her hijab, she instantly became the show's most talked-about new face.
Aden's otherworldly beauty would garner attention anywhere, but by proudly representing Muslim women at one of New York Fashion Week's biggest shows, she started a meaningful conversation.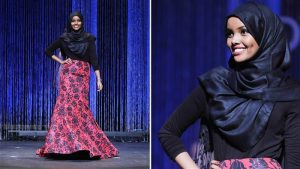 Having first made headlines last year as the first Miss Minnesota contestant to wear a hijab during the pageant, the Somali-American, who was born in a Kenyan refugee camp, signed with IMG Models before making her fashion week debut today. Though she's still a newcomer, Aden has been impressed by fashion's sense of community. "Everyone has been so welcoming and accepting," said Aden post-show.
For Aden, being cast proved incredible both for the experience itself and the chance to see the famous family behind the label. "I had the opportunity to briefly meet Kanye and Kim at my fitting yesterday, so that was fun!" says Aden, whose previous work with the show's stylist, Carine Roitfeld, put her at ease backstage. "She and her team are simply the best. Since she styled the show today, I knew I would be comfortable and wearing something that would be acceptable to my beliefs."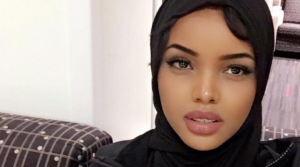 Though finding looks that reflect her standards of modesty can provide a momentary challenge, Aden has been heartened by the way in which stylists like Roitfeld have been willing to work with her. "Often times, they have to put me in a few things before finding something that I know would be deemed appropriate."
In a business that often prioritizes conformity, Aden has found a way to respect both her values and her desire for creative expression. "My goal is to send a message to Muslim women and young women everywhere that it's okay to break stereotypes and be yourself," she says. "Always stay true to who you are—barriers can and will be broken!"
Aden is well on her way to break even more of them. With a shoot with fashion legend Mario Sorrenti already under her belt, she's on a path towards editorial success.
"For me, being able to say that my first-ever photo shoot was with one of the most well-known and iconic fashion photographers in the world is unbelievable," she says. "He is a true talent, and I cannot wait for the world to see all of the images he captured." In the meantime, Aden is thankful her first runway show went off without a hitch, and that fashion is starting to understand just how important individuality is. "I haven't received any pressure to be anything other than myself," she says, "and for that, I am so grateful."