It was a movie! World Famous ROG Music Africa presents a preview of the  Electric main event, ROGMA Vol.1: The Take Off ! 

Fans of rap legend Jesse Jagz were treated to an unexpected surprise at the ROGMA Launch in Lagos Nigeria March 18th 2017. With growing anticipation amongst fans and critics Emperor Jagz obliged and spilled the beans with a preview of what to expect on the new album!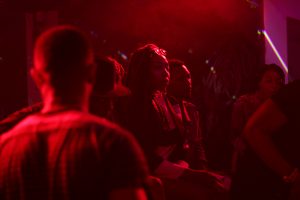 It was a sold out affair in Victoria Island on March 18th, The ROGMA Launch event was filmed and covered by major media houses,  with cameos from Africa's best entertainers, music stars, celebrities and presenters in attendance.
ROG tv covered the red carpet event bringing us a bit closer to a few of the stars in attendance including; Runtown, Ill Bliss, Falz, Reekado Banks,  Iceprince Zamani, Praiz, Yung 6ix, Koker, Dice Ailes, Jesse Jagz, Pryse, Jaywon, Ckay, Dj Bobbi, Dj Kaywise, Dj Consequence, Dj Debbie, Dj Iyke,  Sheyne Banks, Chuey Chu, Awazi, Big Tak, Ehiz, Jimmie, Swanky Jerry, Lola OJ and many others.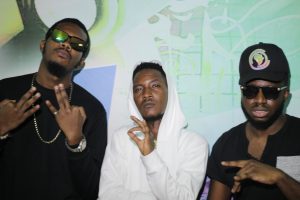 Top artist from the ROG Platform were also in attendance including; Morientez, Emmanuel Luther, Dj Jospa, Dj Toxic, Pupa Tee, Phlow and many others. Members of the ROG Team were also in attendance; Ladan (Visual Director), Christian (Media Manager), Brainchild (Talent Manager) Ayo Tee (Presenter) Emma ( IT Design), King Mark (Visual Design), Samson (Event Design).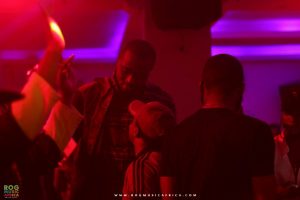 Dj Jospa started the event around 8pm  with a throwback mix of Nigeria's top hip hop singles featuring Jesse Jagz,  Naeto C, Da Grin and others, as guests where ushered in by red carpet media.
With much anticipation, new music from Jesse Jagz (and others) were being introduced into the playlist, with party people going wild! ordering more bottles.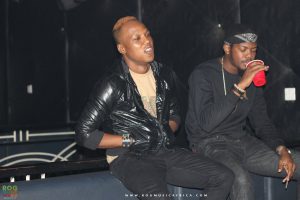 ROG Music Africa vol.1: The Takeoff was hosted by Moti Cakes (Soundcity FM), Ehiz (MTV Base), Raezy (Rthym FM), Douglas Jekan (Beat FM), Real Skillz (Unilag FM), Tage (Urban FM).
Over the last 6 months, successful hit records have been published by Africa's brightest entertainers, The Good folks at ROG Music Africa have set up an initiative to celebrate the creators of the new wave in grand style!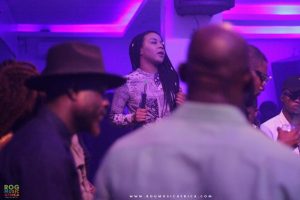 Each volume/event celebrates and promotes 3 official playlists curated by rogmusicafrica.com, featuring the biggest singles dominating Africa's air waves as well as the top performers on the ROGMA platform.
With great zeal and prestige we present the Official Playlist for ROG Music Africa, Volume 1: The Takeoff!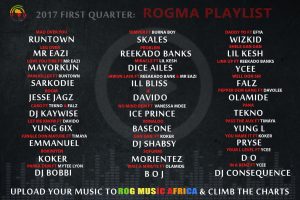 What is ROGMA ?
ROG Music Africa is a pan African music publishing platform that offers A&R solutions to top Record Labels, Producers, Songwriters, Artists, DJ's, Presenters and Entertainers. ROGMA also sets out to create an offline platform for talent either spotlighted or affiliated with ROGMA publishing.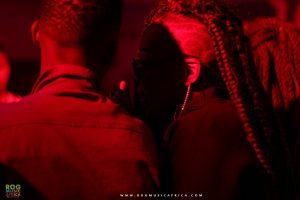 For a chance to win free VIP tickets for you and friends, register online at rogmusicafrica.com OR vote your favorite song on to the playlist with the #ROGMA. For Bookings & Ticket reservations contact us at rogmusicafrica@gmail.com or call +234 81 2365 4585.